SPECIAL OFFER – FOR JUNE / JULY 2012 ONLY
BUY ANY DOUBLE SIDED EX-ROLL FOR THE PRICE OF A SINGLE SIDED EX- ROLL BANNER STAND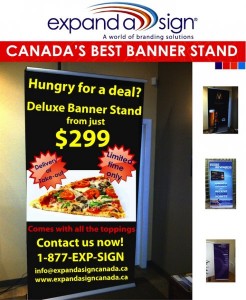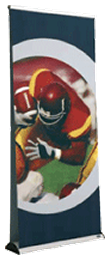 One innovative Ex-Roll has unique features which sets this roll up banner stand apart from the competition. A spring-loaded mechanism in the base rolls the banner up and retracts it into the base allowing for easy assembly, compact storage and easy portability. These banner stands can be set up in less than a minute! The Ex-Roll has a telescopic pole and the height of the banner can be adjusted by simply extending the pole and locking it into position at the desired height. Most importantly this banner stand has no loose parts so you do not need to worry about forgetting anything for your show or event!
Ex-Roll roll up banner stands are available double or single sided and the images are printed on non-curling material to present a consistently flat image. The screens are easily interchangeable offering value for money and from the durable, top quality bases. Our top quality printing technology and custom made fabrics produce brilliant colour graphics for eye-catching advertising of your products, services and brands.
Easy Assembly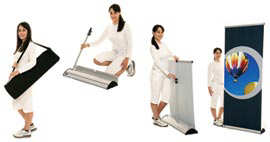 No loose parts!
Telescopic pole for easy height adjustment.
One hand lock and release on the telescopic pole.
Quick set up in less than a minute.
Double or single sided.
Non-curling fabric for a consistently flat image.
Top quality printing technology for brilliant color graphics.
Offers a large print area for branding.
Takes up very little space.
Easy to change skins.
New skins can be purchased separately.
Carry bag included.
Exceptional quality and value.