With the freestanding and overhead Cylindrical Banners you can choose where to make a stand – at floor level or hanging out high above the crowd, head and shoulders above the competition.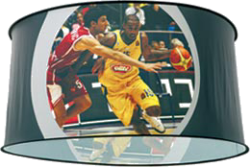 Overhead Cylindrical Banners
Overhead Cylindrical Banners offer you a distinctive look with exceptional print coverage. These are perfect for indoor usage for example as trade show displays, in retail environments and at concerts and clubs.
Freestanding Cylindrical Banners
The Freestanding Cylindrical is quick to assemble and presents a large print area for branding while taking up very little floor space. These banners are especially effective when illuminated and perfect for indoor use in trade show displays, in store retail environments and at events, concerts and clubs.
Easy Assembly