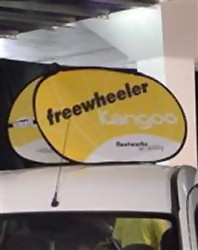 Car top banners are small folding A-frame banners which are supplied with straps. Vehicle banners are perfect for eye-catching branding in crowded showrooms, pre-owned car lots or outside your retail store. These pop up banners can be used vertically or horizontally across a car roof.
Easy Assembly

Quality seams and workmanship
Exclusive treated fabrics
UV resistant
Weatherproof
Brilliant colors and graphics
Latest fabric printing technology and top quality inks
Washable
Colorfast
Can be printed with different images on each side of the banner.
The pop-up mechanism means there is no risk of injury if used on a sports field
Car top straps are available for use as price boards.
The neat carry bag is compact and will protect the product for years.