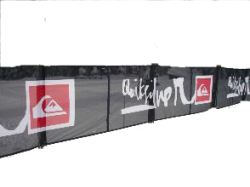 Printed mesh banners allow fencing to be turned in to an advertising opportunity for a company or event sponsors and are often used at sports events such as marathons, triathlons, golf events, ski and snowboarding events and resorts.
Fence Banners are made from polyester or PVC with small holes to accommodate the wind and have PVC reinforcing on the edges with eyelets.
Fence Banners are also known as Banner Mesh, Endless Banners and Fence Wrap.
These banners are made from a choice of fabrics and are suitable for indoor and outdoor advertising.
Latest fabric printing technology and top quality inks for eyecatching branding and graphics
Quality seams and workmanship
Exclusive treated fabrics
UV resistant
Weatherproof
Brilliant colours and graphics
Washable
Colourfast
Lightweight and portable
Carry bag included.
Up to 1.700m width Up to 50m length (longer if joined)