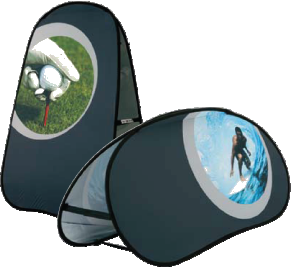 Instantly enhance your brand exposure with Horizontal or Vertical A-Frames (also known as Pop up) banners. These are lightweight and quick to assemble; A-Frame banners offer instant visibility and convenience. A-Frame banners are available in a range of practical sizes to meet your requirements. These are perfect for those bustling events where you need your brand to stand out from the crowd. A-Frames are ideal for trade show displays as well as sporting events and other outdoor advertising opportunities.
The Mini A-frame is used for golf tee markers.
These banners have been engineered to withstand the elements and can be staked to the ground and weighted using the built-in sand pockets.
Easy Assembly

Quality seams and workmanship
Exclusive treated fabrics
UV resistant
Weatherproof
Brilliant colors and graphics
Latest fabric printing technology and top quality inks
Washable
Colorfast
Can be printed with different images on each side of the banner.
The pop-up mechanism means there is no risk of injury if used on a sports field
Car top straps are available for use as price boards.
The neat carry bag is compact and will protect the product for years.